Black November and Black Week: Is it worth it for retailers to join in?
If Americans created Black Friday, Brazilians created Black Week and Black November. The promotion appeared in the United States to inaugurate the Christmas shopping period and after Thanksgiving.
In Brazil, the behavior is similar, as 65.5% expect to buy products for the most important holiday of the year on Black Friday, according to Cupomania.
But is there a demand for multi-day deals? When are Black November and Black Week actually more favorable? Understanding the answers to these questions is key to designing strategies with good results.
Visits to e-shops during November
It's fair to say that every business has its own idiosyncrasies, but when we think about the big picture, the All in Black Friday 2021 report showed the trend of e-commerce approaches in November.
Visits intensify from the second week of the month, with a peak in the last week, close to the official day of Black Friday. However, this data alone is not enough to define when to start promotions in this very important period for e-commerce.
Access to every virtual store
General statistics help to understand the scenario, but the entrepreneur needs to analyze the data of the store itself. Therefore, it is essential to understand the flow of visits during the month of November in previous years, even if you have never held a Black November.
In the case of entrepreneurs who started their business this year, it is necessary to analyze the data that the research holders refer to in this and previous years, with the possibility of analyzing the behavior of their customers and understanding how much they will be willing to pay, which may depend on your profile, market niche, etc.
Studying the access metrics for each month is interesting. It is important to remember that the official date of the promotion is the end of the month, when there is a decrease in the money circulating in the economy due to the payment date in the country, which is more often at the beginning of the month. But there is also the variable of the 13th salary that can help here.
Sales during the month
The general sales trend is similar to approaches increasing as the official Black Friday approaches, as shown in the chart in the Black Friday 2021 report.
It is valuable to understand the peculiarities of the customer's purchase journey of each virtual store and segment. As noted earlier, payment dates can affect e-commerce performance, even with other payment options offered – such as credit card, Pix and digital wallets. The very fact that you have money in your account is an incentive to spend.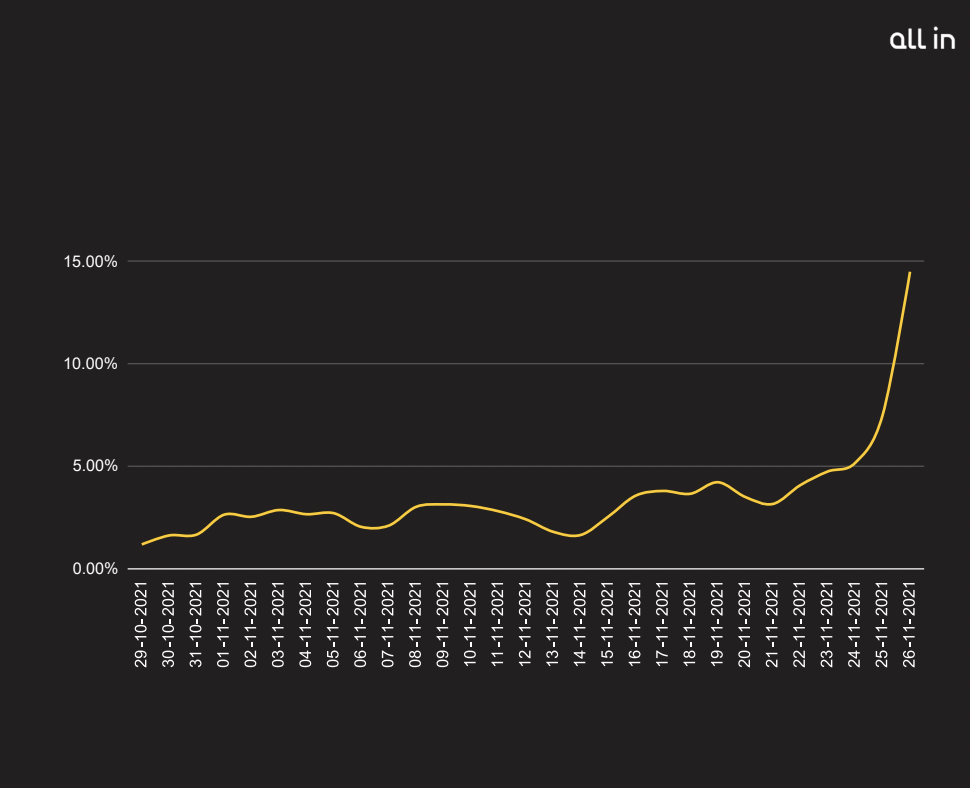 Visits by category
The All In report also provides interesting data on the approach to certain categories. All registered visits before the official day of Black Friday in 2021, especially pharmacy and healthcare, with more visits during the month than the last Friday in November.
This chart shows that it is at least interesting to have promotions that prepare the public for a big day (or week) of promotions, even if there is no Black November.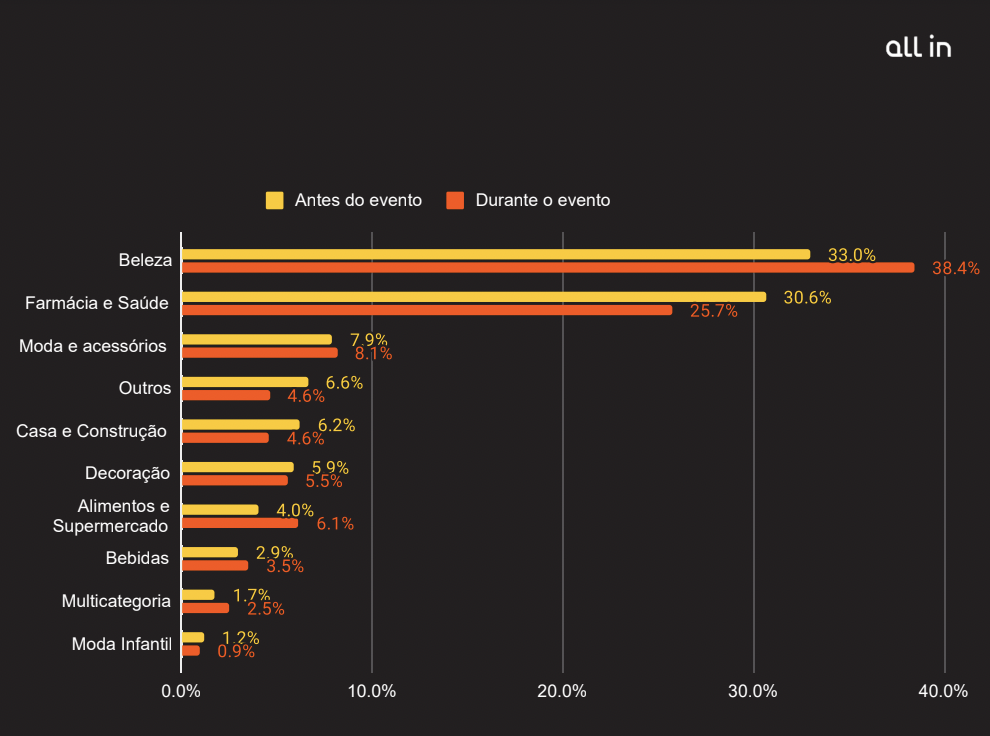 Opportunities and challenges for everyone
In all promotions for November there are benefits and points of attention. Understanding what they are helps an entrepreneur decide which one to join and how to get the most out of e-commerce.
Black November: a whole month of offers
Running since the beginning of the promotion month, Black November is expected to boost sales over the 30 days of November. To achieve good results, there are some important points.
The best should not be left for last.
The "black scam" has become famous for fake discounts on the long-awaited Friday in November. If the store is holding Black November and does not have a very favorable offer, we can also use that term, but every month instead of just one day. Therefore, the discounts must be significant.
If they only appear on the official date, it makes no sense and the customer can get angry, and in addition, they can complain to the competent authorities, such as Procon. More than not shopping before Black Friday, the chances of you not returning to the site increase significantly.
A good strategy, with real discounts, can bring the opposite and positive result. When the consumer realizes that the retailer offers real benefits, along with good service and product quality and delivery, the chances of repeat purchases increase.
This does not mean that the entire store has to be on sale all the time. Therefore, there is an interesting strategy that will be explained below:
offer a calendar
If Black Friday is like a race, Black November is like a marathon. For this strategy you need to have a breath for 30 days. To keep customers interested, you need to be strategic.
The offer calendar is great for this. It is common to hold Smartphone Week, Device Week and so on. In this way, the consumer knows that he can expect offers throughout the month, from different sectors.
The offer schedule also allows each virtual store to have discounts on Black Friday and peak shopping throughout the month.
Best selling X most stopped in stock
Leaving high end products until the end of Black November discourages buying. Therefore, it is recommended to mix products with high traffic, with good demand, with those with low traffic.
A great strategy to get rid of those that have been in stock for a long time is to take advantage of sales, when other products are offered in addition to what the customer originally wanted. Kitting is a great option and most websites offer this option to sellers, including marketplaces.
Cross-selling, when the offer comes after the first purchase or at checkout, is also very much in line with Black November. As the promotions will last the whole month, it is possible to offer items related to previous purchases. Since these are usually complementary products, the chances of increasing the average ticket are high.
In order to define which portfolio is included in the offers for November, it is interesting to use the ABC curve, a method that helps to identify products with higher and lower potential.
Essential communication and marketing to drive sales
Many consumers register on the site to track Black November offers. Therefore, it is essential to use the data of these potential customers to increase conversion over time.
Even without registration, it is possible to carry out campaigns with remarketing ads, when an Internet user is influenced by advertisements for products about which he has already researched. During this period, the chances of clicking on ads are higher.
Emails announcing offers, with cross-selling promotions and other information are essential, as well as strategies on social networks and the company's blog – if there is one – and the use of communication channels such as WhatsApp can be interesting for greater transparency when informing customers. purchase processes or ask for customer feedback.
Should an entrepreneur hire more workers?
With a higher flow of sales, it is necessary to be aware that the need for service, the occurrence of possible problems and other requests will increase. Therefore, it is necessary to analyze whether the current team is sufficient to meet the demands of the hottest trade season of the year.
It is recommended to conduct training, with employees for a certain and fixed time. Tests with technological resources are also essential to avoid or at least minimize inconvenience.
However, with more people, labor costs are higher. Therefore, it may be interesting for an entrepreneur to analyze whether the use of automation tools will meet their demand and have a better cost-benefit ratio.
Black week: a whole week of offers
In the week of Black Friday, visits to e-stores intensify, as evidenced by the All In 2021 report already mentioned here. As Friday approaches, the number of hits increases, culminating in a big spike on the official promotion day.
Surprising the customer with Black Week, with significant deals as early as Monday, can bring good results for e-commerce, as long as some problems are observed.
Informing potential customers and using advertising tools can increase demand
Since the offer week will be shorter than a whole month, the retailer can send email trigger emails from their potential customer base or WhatsApp messages with offer notifications. The promotion of Black Week is a simple and fundamental action to encourage buying interest among those who have already had contact with the brand.
Or, simply, it is up to the entrepreneur to use their social networks, such as Instagram stories and posts, to advertise their products, generating more interest and directing them to their online store. Except, of course, the possibility of using ads, both on social networks and in advertising services in markets, such as Mercado Ads, Shopee Ads, among others.
Days with unique promotions
As with Black November, it is possible to put some product categories on sale as the days go by. So you can have Bed and Table Monday, Smartphone Tuesday, Beauty Wednesday and other themed days.
This strategy keeps the audience on their toes every week. On Friday, you can put a whole page with discounts.
Urgency trigger in the media
The realization of Black Week already naturally creates urgency, as consumers know that the benefits are limited time.
However, this feature can be boosted to improve results. This trigger can be worked into ad copy, email marketing and video scripts. It is important to emphasize that the discounts are only for that week – the best of the year.
prepared team
Unlike Black November, the company may not want to consider hiring temporary workers for a few days. Therefore, it is necessary to prepare them so that they can serve customers well.
Analyzing whether overtime will be required is key to providing a good experience for the client and, of course, for your employees as well.
Otherwise, unpreparedness can result in damage to the company's image and lower revenues, as dissatisfied customers quickly look for other options, especially in e-commerce. Reputation in the markets, for example, can be damaged, with long-term losses for the company in a period where sales should have increased.
Black Friday, Black Week or Black November, which is better anyway?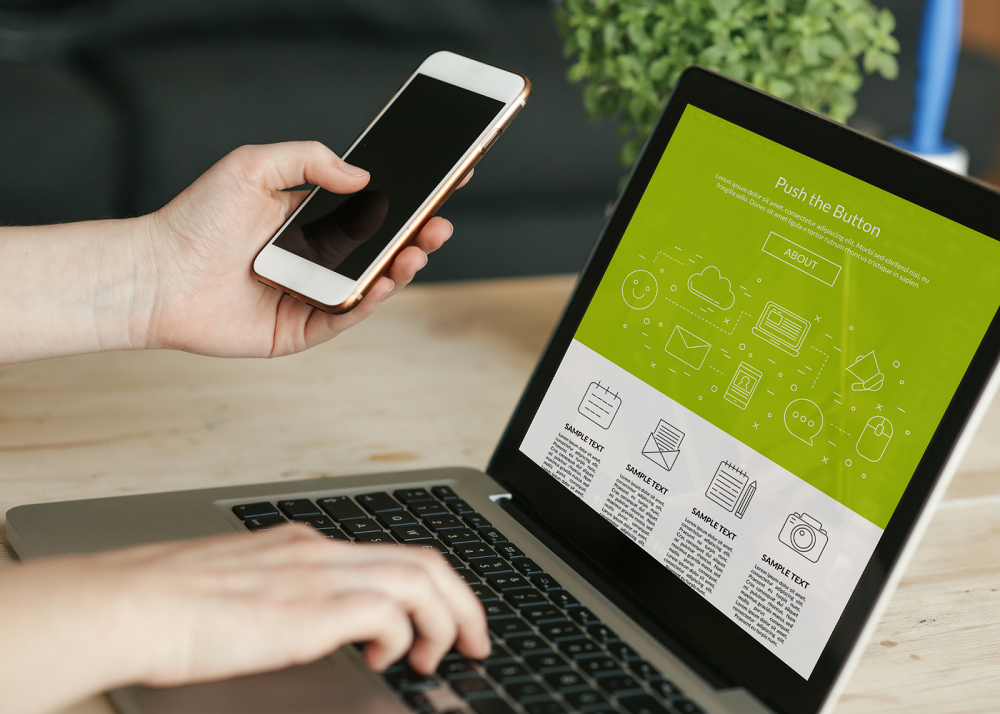 There is no single answer as to which of the three types of promotion is most suitable for increasing revenue.
It is important to analyze each job with its peculiarities. Perspectives help, caveats need to be heeded and, once the strategy is implemented, goals need to be verified so that we have more of a foundation for next years Black Friday, Black Week or Black November.
However, the month of November itself will have more weight this year due to the World Cup, which may indicate that the use of promotions with event items can give more visibility to the company, but it is up to the entrepreneur to assess whether it is really worth it by participating.