What's new in the update?
Chrome 106 was released on September 17, 2022. In this version, Google's browser received translation of highlighted text. But before we start talking about what's new coming to Chrome 106, it's important to remember that the browser is getting the new update on several platforms. This includes Android or iOS phones and tablets, as well as Chromebooks and computers (laptops and desktops).
Translation of highlighted texts
The integration of Google Translate in Chrome is very useful. The resource is used to translate entire pages into Portuguese or another language. However, in Chrome 106, the browser improved this functionality and now allows the user to highlight a paragraph in the text of a web page and translate only that part. Once you've underlined a sentence or paragraph (in whole or in part), just right-click to access the pop-up menu and activate the translation.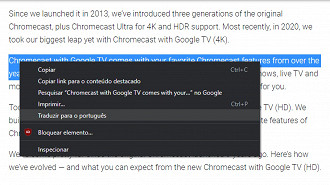 The highlighted text translation feature can be activated via this address in the Google Chrome browser:
chrome://flags#desktop-partial-translate
Unfortunately, translation for all languages ​​is not supported in Google Translate and the highlighted text translation feature may not work as expected in Chrome 106.
Chrome for desktop gets an RSS reader
Last year, Chrome for Android got an "RSS reader" feature integrated in the form of a "follow" button for following posts from websites. The functionality is now finally arriving in version 106 for desktop computers. However, the feature doesn't seem to be fully ready. Some users report that they can follow a site by right-clicking on the page and selecting "follow site", but it still doesn't appear in the side menu.
Web applications get new user interface elements
With each update, Chrome is constantly getting improvements related to web apps. In browser version 106, a new "Pop-Up API" was implemented that allows web applications to have temporary UI elements that can be displayed on top of other elements.
Basically, developers will be able to insert elements such as action buttons, suggestion windows, content selectors, and user coaching interfaces.
Website notes coming soon
Saving a website to a list of favorites already makes it easier to revisit important information. But how can you remember something you were thinking about when you visited the site? With this in mind, Chrome developers are working on implementing annotations (comments) to insert into web pages.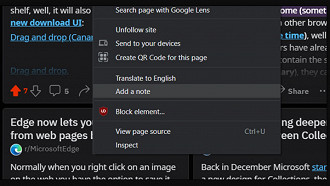 Through the new feature, the user will be able to make notes that will go directly to the top of the website page. Every time you visit a particular address, the comments will be there to remind you of some particular information.
What else is new in Chrome 106?
According to Google, Chrome 106 brings several changes, including a few features that aren't ready yet, but the main changes are:
Anonymous iframes give developers the ability to load documents into third-party iframes using new and short-lived contexts.
Client tips are now retained in the Android WebView, creating parity with the rest of the web platform.
In CSS Grid, the 'grid-template-columns' and 'grid-template-rows' properties allow developers to define row names and track grid column and row scaling.
The underlying data source for "ReadableStream" provided by "SerialPort" is now "readable byte stream".
Apps that use the WebXR Device API can now access sync pose camera image textures in contexts that also allow them to interact with other AR features offered by WebXR.
How to manually update Google Chrome
To manually update Chrome, follow these steps:
Step 01: Access the browser menu in the upper right corner by clicking on the three vertical dots symbol.
Step 02: Hover over the "Help" option.
Step 03: Select "About Google Chrome".