Couple invests BRL 10,000 in e-commerce for dehydrated arrangements and already earns BRL 3 million in 2022 – Small Business Big Business
The dream of a business that will be called "ours" led the couple Daniel Paulus, 27 years old, and Thiago Ferreira, 24 years old, to invest R$ 10 thousand of their own capital in opening Plantô botanical art. Arrangement work flowers natural and dehydrated products came out of paper in 2020 in the city of Chapecó (SC) and had a rapid consolidation thanks to the model e-commerce. The company earned BRL 2.5 million in 2021, and this year it has already generated revenue of BRL 3 million, aiming to reach BRL 5 million by the end of the year.
"We've been together for six years and we've always had this desire to do something, to have our own business," explains Paulus, who is a journalist and worked in marketing before founding Plantô.
They managed to balance their careers with the venture for about three months, until the work required their full involvement. "We worked on our own for almost a year, pushing the brand around. It's been a year since we moved into our space and we have 13 employees who keep the company growing," says Paulus.
Plantô has already served more than 15,000 customers, most of them from São Paulo, with a combination of 500 products ranging from R$90 to R$2,900. The average ticket is between 400 and 450 R$, depending on the commercial action taken during the month.
Start of business
The company started because Ferreira, trained in architecture, had a habit of decorating the couple's home, and the arrangements were used to assemble the decor. They thought the product could become a successful business and decided to invest in e-commerce, a model that gained scale in the pandemic. "We joined that desire to venture with a product that we saw at the time as innovative, that would gain space in the market," says Paulus.
Another factor that pointed to the arrangement segment was the moment the world experienced during the health crisis. "When we stayed at home more, we started to look a little more at our surroundings and we realized that people are also more concerned about arranging their spaces, their workplaces. That's when we saw that we really had an opportunity to start," adds the founder.
At first, the couple believed that the arrangements were in favor plants fresh would have been the company's forte, but consumer demand dictated the direction of the business. "The first sale was for a dehydrated arrangement, in São Paulo, and since then orders have started to be ordered after another. That's how the public showed us that this is what they want," says Ferreira.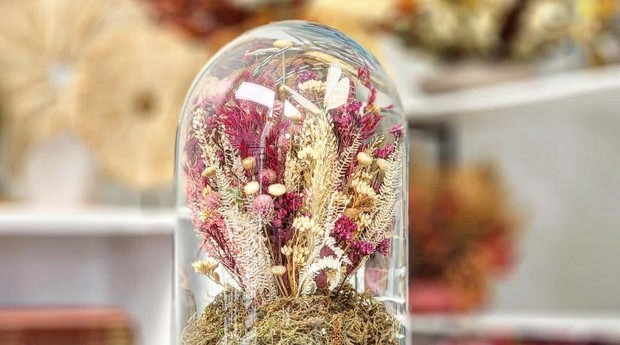 Expansion
From 2023, Plantô Arte Botânica should fly to São Paulo, its main market while operating only in e-commerce. The brand is expected to open its first physical store in a mall in the city of São Paulo.
"Our product is not what people are looking for. It has to influence them somehow", justifies Paulus. "Let's map what they are shopping centers which today reach the AB audience, which we influence the most", he adds.
As for the expansion model, the entrepreneurs have not yet defined whether after the first store they will continue to open their own stores or migrate to franchise. What they take for granted is the strengthening of e-commerce, with the possibility of migrating this operation from Chapecó to São Paulo, due to the ease of logistics.
Although they grew from the beginning with funds from the company's cash, the entrepreneurs sought capital to ensure the expansion of the company and managed to invest R$ 1.5 million in the seventh season of the program. Aquarium for sharks Brazil.
Entrepreneurs also want to increase the range of products in order to grow in decoration – not forgetting the brand differences in arrangements.
"Dehydrated products will continue to dominate the market, but today we have already added other decorative items, which fully communicate with the brand, with our customers. We want to expand a lot on this front as well, to become a reference in decoration, not only in arrangements", concludes Ferreira.
Want access to exclusive PEGN content? Just click here and sign up!