Digitization brings more colors to Chinese lives
Ren Guan, People's Daily
A child plays Go with a robot at the iFLYTEK booth at the 5th China Digital Summit on July 22, 2022. Photo by Chen Bin / People's Daily Online
When we open the navigation software, we can immediately and clearly see our travel path; when we buy clothes on e-commerce platforms, the online review function allows us to intuitively see whether the garments are suitable or not. Such experiences have long been a part of everyday life. With the progress of building digital China, these technologies are widespread and more and more people are enjoying the benefits they bring.
Between 2012 and 2021, China's digital economy grew from 11 trillion to 45.5 trillion yuan. The foundation of digital industrialization is also stronger, and the pace of industrial digitalization continues to accelerate. Currently, digitalization is expanding its "net" to every corner of China, profoundly changing the lives of the population.
During this decade, life has become more comfortable thanks to digitization. From 2012 to 2021, China's internet penetration rate increased from 42.1% to 73%, with all prefecture-level cities fully covered by fiber optics and the urban broadband coverage rate reaching 100%. By the end of July this year, the number of 5G mobile users in China reached 475 million, representing the largest 5G network in the world.
With the development of digital infrastructures, new technologies, new formats and new models appear, such as the sharing economy, online retail and mobile payments. The benefits arising from China's digital construction span all aspects of social life. Currently, ordering food via QR code and paying via facial scanning are new experiences in the lives of urban citizens; Smart parking, face scanning when entering and leaving residential areas and smart garbage recycling make life more pleasant. Even in the expanses of agricultural communities, thanks to digital technologies, the transformation of traditional agriculture into smart agriculture is accelerating.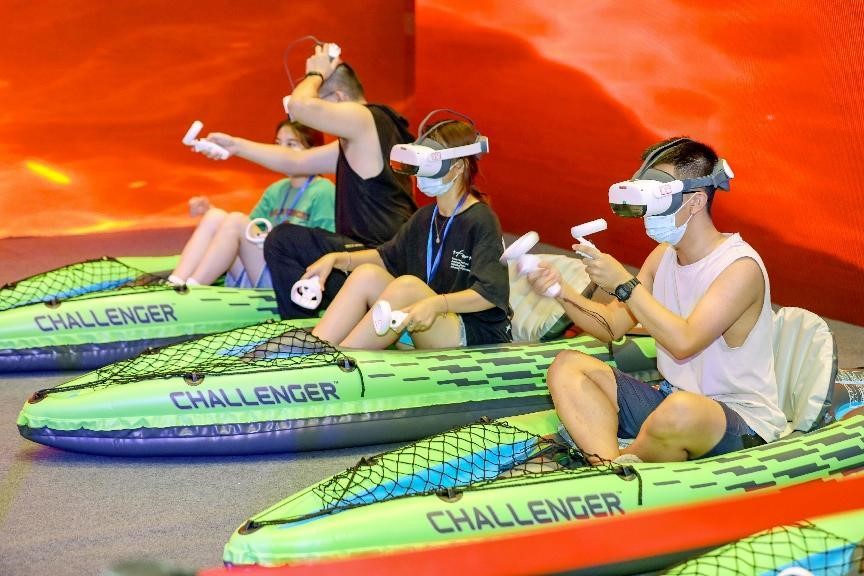 Visitors experience virtual rowing at the interactive digital esports pavilion of Cangshan Theater in Fuzhou city, Fujian province, July 18, 2022. Photo by Xie Guiming/People's Daily Online
The last decade has seen an acceleration in the spread of digital services for the benefit and convenience of popularization. New models of online and remote services are becoming more common. In Hainan Province, 18 municipal hospitals, 340 rural hospitals and 2,700 rural clinics have installed 5G-based telemedicine equipment, reducing the average patient visit time by 3-5 hours and increasing the efficiency of medical treatment by 30%. In the tourist resort of Guling in Fuzhou, Fujian province, the entire tourist area has 5G coverage and a number of "5G smart tourism" projects have been implemented, which have contributed to a 13% increase in the flow of visitors to the tourist resort. Looking back over the past ten years, digital technologies have made an important contribution to solving the problem of unequal distribution of high-quality social services between urban and rural regions.
The effectiveness of government digital governance services has also improved significantly over the past decade. Digital governance is an important component of digital China. Widespread use of digital technologies in state administration management services is an effective measure to modernize systems and management capabilities, as well as an inevitable option to better meet the growing public demand for state administration services. According to the United Nations e-Government Survey Report, China's e-Government Internet Service Index ranks ninth in the world.
By accelerating the construction of digital China, fostering the digital economy, increasing the efficiency of digital management, improving the digital environment at the societal level, setting the standard of digital cooperation, and building a solid digital security barrier, digital technologies will surely bring great benefits. social. The development of these technologies will bring people a greater sense of profit, happiness and security.