Electronic cigarettes: a new trend among young people is a wolf in sheep's clothing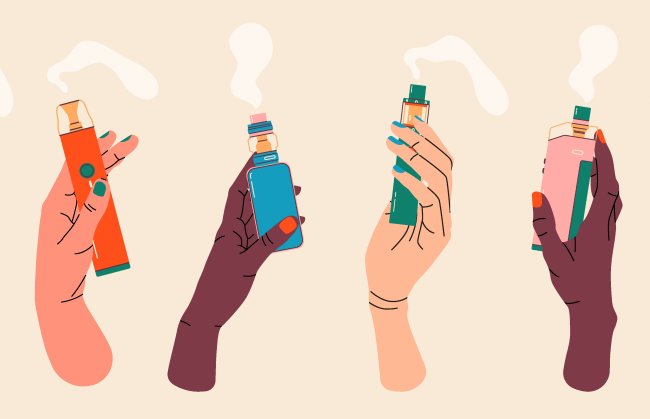 In the circle of friends, at the door of the club, on leaving college, at parties and even at home. E-cigarettes are everywhere and its consumption is practically dominated by young people.
Other Covitel report this year, one in five Brazilians between the ages of 18 and 24 is a DEF (Electronic Device for Smoking) user. Consumption is more common among men, and in the central-western and southern regions of Brazil – despite the indices being well balanced, showing that fashion is truly national.
In fact, the fever is worldwide! In the USA, for example, 75% of young people who smoked traditional cigarettes switched to electronic cigarettes as soon as they appeared on the market. The data are from Journal of Pediatrics (edition from May 2022) and refer to the years from 2017 to 2019.
In Europe, vaporizers are found in official stores of specialized brands, in street vendors, airports, bars… Ads are everywhere! At railway and underground stations, in in openat bus stops, on cell phone screens… Even those who have never smoked ask: "What about vape?".
BEABA ELECTRONIC CIGARETTES
Electronic smoking devices (DEF) they were created in 2004, and today they are in the 3rd generation. "THE First It consists of a single-use, non-refillable product, in a format very similar to a regular cigarette, and the LED light simulates the glow of a cigarette during a puff. They are sold with or without nicotine. On second generation, there are products with a rechargeable battery, in which the cartridges can be replaced with other pre-filled liquid nicotine. Some, similar to pencils, allow regulation of the duration and number of breaths. The latest generation of DEF it does not resemble a regular cigarette and is also known as a container, because it contains a container or container that is filled with nicotine, but also with other drugs, such as liquid marijuana. They are refillable and can be easily controlled to release a larger amount of vapor," the study details. E-cigarettes: what do we know? (2016), produced in partnership between the Pan American Health Organization/World Health Organization (PAHO/WHO), the National Health Surveillance Agency (Anvisa) and the José Alencar Gomes da Silva National Cancer Institute (INCA). .
The article also points out that "Vapers absorb vapors created from solutions known as e-liquids or e-juices, which contain solvents (called e-liquid base), along with varying concentrations of nicotine, water, flavors and countless other additives. The most popular solvents used in e-liquids are glycerin (usually of vegetable origin) and propylene glycol."
The vaporization temperature of the vape can reach 350º C, causing chemical reactions and physical changes in e-liquid compounds, already produced with aggressive chemicals, forming other potentially toxic substances for humans, classified as cytotoxic, carcinogenic, irritant, causes pulmonary emphysema and dermatitis, as stated in the study.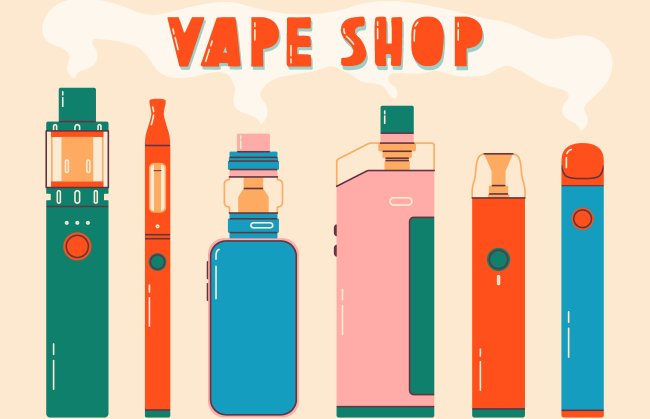 IT ALL LOOKS THE SAME, BUT IT'S NOT
Rodolfo Bacelarpulmonologist and professor of medicine at the João Pessoa University Center (Unipê), explained to WHICH that the principle of these electronic devices is always the same: the battery heats the liquid solution to be consumed (usually with nicotine, but may also contain other substances such as THC or cannabidiol).
Despite this, there are different types of vaporizers on the market, divided into two categories: call for herbs (evaporators of dry herbs and concentrated oil) and vape for liquids (conventional evaporators and sub systems).
Within these categories we find model subcategoriesof which the first five are listed below:
Continues after advertising
Pencil: the name is self-explanatory. It looks like a pencil and is one of the most affordable and simple models on the market. It is rechargeable and works at the push of a button.
Set: It is a bulkier model that allows the user to connect an external battery to the system to optimize vaporizer charging.
Mechanical mode: suitable for those who already have experience with vaporizers. It can be mounted and allows for stronger/stronger vaping.
under systems: it has high doses of nicotine and is generally used by people who want to quit smoking conventional cigarettes.
Disposable pad: As its name suggests, it lasts for several vapes and the e-juicy that comes in a tank is not rechargeable, nor is its battery.
A WOLF IN LAMB'S SKIN
No matter how much the concentration of harmful substances in electronic cigarettes is lower than that in traditional cigarettes, forms of consumption, frequency of use and consumed amount make the two products similar when we talk about harm which can cause "The fact that it is more socially accepted and the presence of essences, with their smells, tastes and colors, makes people consume even more vape", warns Dr. Rudolph.
The villain of the story is the base e-liquid that the system heats up and the consumer inhales.. It contains substances that are harmful to health, such as nicotine, propylene glycol, formaldehyde and acetaldehyde that are carcinogenic, and lead, a heavy metal that is also very harmful.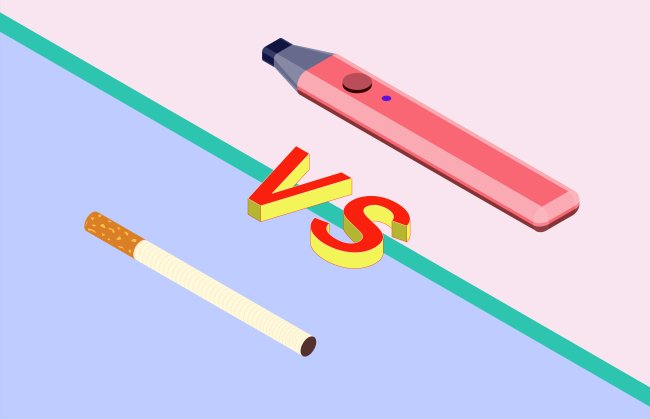 "Consumers are exposed to the risk of developing cardiovascular diseases such as heart attacks and arrhythmias, lung diseases such as emphysema and other inflammations. Along with the development of cancer, there may be a worsening of previous diseases of the respiratory system, such as asthma. Memory problems and irritability are common. Electronic cigarettes reduce the defenses of the lungs, making it easier to get infections. Furthermore, there is a lung disease caused by substances present in electronic cigarettes, EVALI, in which important inflammation prevents the passage of oxygen from the lungs to the blood, leading to the need for ventilatory support.. In the recent outbreak, young people had to go to intensive care and use mechanical ventilators, and there were even those who needed lung transplants," says an expert who is concerned about the device's appeal to young people.
As much as some say that vaporizers are used to reduce the use of conventional cigarettes – and that this is exactly what they were created for – some common misconceptions prove exactly the opposite.
+ Want to understand what's happening in Brazil this election year? Come with us to CH for the elections.
The e-cigarette industry is based on acquiring new consumers. "For addressing a young audience in your advertisements, for innovation, technology, colors and flavors, electronic cigarette today is the gateway to nicotine addiction. Data from the US government show that as many as a third of young people who start using electronic cigarettes will start using traditional cigarettes within six months," reveals Rodolfo Bacelar.
The pulmonologist also says yes as a therapeutic product, it has been shown to be inferior to other smoking cessation approaches.. After all, the mainstay of vaping is nicotine, which is addictive. But there is also an e-liquid in the game that is inside the device's tank, which is full of substances harmful to health, as we saw earlier. "There is the idea of ​​harm reduction, which is not the absence of harm. There are much more effective ways to stop using nicotine," says the professor.
Bacelar still reflects that the big traditional cigarette companies are the owners of electronic cigarette brands. "Our generation is falling for the same conversation that the traditional tobacco industry used to create a generation of smokers. The idea of ​​health, of consumer culture, existed before. Vape marketing uses a generation that has not been exposed to the evils of smoking to acquire new consumers, in order to studies paid to bring false security, based on pseudoscienceand social media to spread fake news that defends consumption," the warning said.
AT YOUR OWN RISK
In Brazil, marketing, import and advertising of all types of electronic smoking devices (EDS) are prohibited. This list includes, among others, electronic cigarettes, vaper, pod, e-cigarette, e-cigarette, e-pipe, e-cig, heat not burn (heated tobacco).
According to the Resolution of the Collegiate Board of Anvisa dated August 28, 2009, "this decision was based on the precautionary principle, due to the lack of scientific data to prove the claims attributed to these products".
There are those who claim that banning the sale of DEF in the country hurts the economy and increases damage to appliances, encouraging their illegal trade, as well as contributing to the lack of information about the devices, putting users at greater risk. "The regulation of vape and e-cigarettes in Brazil is essential for the implementation of an effective harm reduction policy for smokers, a measure that would respect the profile, time and degree of addiction of each individual", the lawyer believes. Vanessa Vianawho believes that "it is better to control and manage the harm of smoking than to succumb to its harm, preventing more tobacco-related deaths and protecting families from the loss of a loved one, often their main breadwinner".
Anvisa, on the other hand, insists on it cannot approve the regulation of devices due to the lack of scientific data on them and their harmful effectsas the debate continues to be dominated by biased research.
Doctors warn against the consumption of electronic cigarettes, as well as "tricks" learned on social networks, which promise to turn a disposable vaporizer into a refillable one, for example. Cheap can be very expensive.
Continues after advertising