Anticipation with a decisive change in the cryptocurrency Ethereum
A fickle world cryptocurrencies is preparing for a new and important shock this week with the mutation of one of its main values, the Ethereumwhich changes the way it works to reduce its voracious energy consumption.
Created in 2015, Ethereum is another currency blockchain the most important in the world, after Bitcoin.
Its capitalization is approx 20% market, far behind the main currency, Bitcoin (40%).
But above all, its wide use in the world of digital art (close to 90% of transactions) raises the expectations of artists, experts and collectors.
Ethereum works by "mining", a method of registering and verifying computer operations that consume a lot of energy.
If, for example, a digital artist decides to sell his work on a platform that uses Ethereum as a cryptocurrency, the first thing to do is to create NFTirreplaceable token, on that blockchain.
This NFT is what will allow you to sell the work and then earn a commission (typically 5-10%) every time the work changes hands.
Ethereum is an autonomous and decentralized blockchain, a bit like the Internet.
Thousands of computers around the world work non-stop to "mine" these operations on the "blockchain", constantly creating and adding new records ("books").
Each transaction is registered in a chain that is completely open and, as the proponents of crypto technology assure, completely secure and indestructible.
More energy than New Zealand
The downside is that this "mining" of the Ethereum chain consumes more energy every year than New Zealand.
With a change scheduled for this week, between September 13 and 15, Ethereum will move from a "proof of work" system, which verifies that a record has been "mined," to a "proof of stake" system, in which those who participate financially in the blockchain in they are basically rewarded.
This change will eliminate the use of thousands of computers and could reduce Ethereum's energy consumption by "99%", Blockchain Research Lab's Lennart Ante told AFP.
The operation, known as "Merging", is expected to last around twelve minutes, according to experts who estimate it will take place between September 13 and 15.
"Critical Mass"
Since it is a fully decentralized chain, a "critical mass" of participants willing to voluntarily leave "mining" is needed, which is very profitable for those with more IT resources, for a more democratic and participatory system and, by definition, greener.
At stake is not only the credibility of the cryptocurrency world, but also a huge amount of money.
Ethereum is currently being traded $1,700 per unit. and the eye 59% of loans in cryptocurrencies is given with this platform.
If successful, the mutation "could give traditional financial institutions the confidence to develop Ethereum-based services," explained a recent research note from ING Bank.
But doubts remain on that path.
Groups of "miners" have already announced that they are ready to create a "fork" that will maintain the old "blockchain" at a decisive moment.
The largest NFT trading platform, Open seawarned in a tweet 10 days ago that it would only recognize tokens "registered on the new chain".
Some NFT collectors are calm. "I'm not worried at all. The only thing I did was transfer my NFTs to one account" as a precaution, Albertine Meunier, a collector and digital artist, told AFP.
See also
Month
NASA is once again delaying the launch of its new rocket to the moon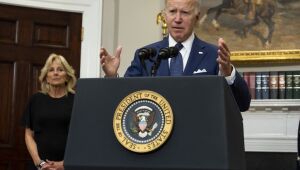 NOW
Biden seeks to avoid a rail freight strike