Experts detail the difficulties in exploiting esports in JF
If in Brazil, electronic games have expanded and gained importance, as evidenced by the victory of the FIFA World Cup in July by Brazilian players, as well as the success of game streamers such as Gaules, who won the eSports Brasil 2020 award in the Personality and Streamer categories of the Year, in Juiz de Fora the scenario has not yet been explored in the professional field, with several competitions held. The Tribune spoke with a gaming content creator, owner of CT e-Sports JF, a gamer who won CT-promoted competitions, and an event organizer who strives to bring electronic gaming to the city to understand what is missing Juiz de Appear at state and national to the scene of electronic games.
"The dream of the majority, the realization of the minority"
Despite the formation of strong and recognized teams in eSports, such as Corinthians, Cruzeiro, Flamengo and Santos, which have players dedicated full-time to the profession, the reality for most athletes, including Juiz de Fora, is not the same. This is guaranteed by the game content creator, Pedro Arty, who worked in the Corinthians Free Fire team and in front of TM Games, the recently launched Tribuna de Minas social media channel, which will explore the scenario in the region.
"I even visited the Athletes' Home, the 'house of games', which had a nutritionist, a psychologist and a manager. They don't have to worry about anything but the game, which is their job. They engage in physical exercises, certain activities, they don't spend the whole day in games. They have complete supervision, and those who are minors are obliged to go to school. But here in Juiz de Fora, the reality for many boys is that they train at home, without support, to try to join the team. It is the dream of the majority and the realization of the minority. Many play on crappy computers trying to get into some big organization. It's on the same playing field as football," says Arty.
Another factor that limits a player's projection to the professional level, according to Arty, is low longevity. "Most athletes don't go to college, but their careers are very short. In general, players are at their peak until the age of 25 at the most. It's a good period, he dedicated himself exclusively to e-sports and in parallel with that live, which helps with income. But then, to continue this, the only option is to become a commentator. Everything is new on the scene, there isn't much interest yet," laments the content creator.
What has helped the scenario grow, including the pandemic, according to Arty, is the ability to play e-sports remotely, while interacting through social networks. "The generation of video game content and independent entertainment, on platforms like Twitch, YouTube and even Tik Tok, has grown tremendously. During that time, both streamers and up-and-coming content creators have emerged and grown. At the beginning of the pandemic, we had a small accident because some esports championships were canceled because they were personal. But quickly everything adapted to the Internet and a lot was done. Several championships were held in the country," he says.
Even with these development mechanisms, the content creator sees that "everything is difficult" in the city, and therefore the athletes themselves should look for alternatives. "K3.GG, the organization, works, but little happens in the city. For example, when I was younger, I was passionate about the game of Dota. I lived in Muriaé, and in 2015 I came to Juiz de Fora thinking there would be a few tournaments, but there was nothing. In 2016, at the Federal Institute of Juiz de Fora (IFJF), where I studied, I was part of the academic center. We organized an event there called the IF Games. We had to do it because of the lack of competition here in town. There have been disputes from CS, LOL, FIFA and others. Okay, with the rules," he recalls.
"The center is São Paulo, you can't escape from it. One thing or another is happening in Belo Horizonte. Here in Juiz de Fora, CS is the strongest, there are some championships, even if they are amateur. But even so, it is little. Free Fire, Pubg, Rainbow Six and Pókemon United are on the rise. The city needs more championships. The crowd has to get moving for that to happen," asks Arty.
Mission: 'Breakthrough the Scenery in JF'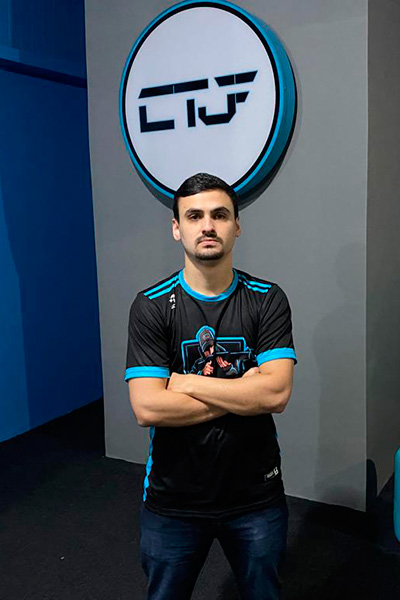 The owner of the so-called first gamer lan house in the city (CT e-sportsJF), Bernardo Carnot, also believes that electronic games in the city are far below what they could be. "There is very little competition in Juiz de Fora. In-personal is only CT that organizes it, there is no other place where people can play. Here are ten computers to play with, five computers face to face with another five, allowing you to play against each other team, to have a rivalry. Online is easier to do, but even then, there are very few. The disclosures are also very weak. We publish our championship only on Instagram, where the audience enjoys it, but it's very small… Juiz de Fora is very big", said Bernardo sadly.
Content continues after the ad
In Juiz de Fora, Free Fire, League of Legends (LOL) and Valorant have a lot of adhesion, but Counter Strike is the one with the most players, according to Bernard. "We have already organized two head-to-head CS championships and they were successful. In the first one, we built a structure with a big screen in the store, allowing players to bring friends and family to watch. We also broadcast on Twitch, with a narrator and commentator for visibility. In the second championship, we installed a 50-inch television on Praça Manoel Honório. We sold drinks, it was very interesting," he recalls.
According to CT owners, lack of support is another obstacle. "The City Hall has now started with some modalities, but the ones they bring are not the ones with the greatest public participation. Some have no engagement whatsoever. The most famous ones don't, maybe because it's a shooting game. I don't know if it affects anything, if there are prejudices," says the owner of CT.
At the request of the Tribune, the Secretariat of Sports and Leisure (SEL) of the City Hall of Juiz de Fora reiterated that "in the two editions of eSports Bahamas City Cup, meetings were held to analyze what the modalities will be. It has been analyzed that violent games with weapons (such as CS) are not recommended for children. The Bahamas Prefecture e-Sports Cup is a tournament that, in addition to encouraging e-sports, enhances the educational and behavioral benefits inherent in sports such as friendship, mutual respect, inclusion and solidarity, and does not encourage violence."
For Bernard, a self-proclaimed fan of entrepreneurship and electronic games, CT's mission is to provide a place for athletes to compete and have fun. "I'm trying to open a new field in Juiz de Fora, this is my mission. We want to give visibility to people who dream of being professional players and enable them to become professional in the city. Today they have to go to other countries, because here there are no opportunities, no formed teams, no sponsors. There is a lot of lost talent. Due to lack of opportunities, they end up not moving forward. It wasn't easy, CT is the only place in town. It's good for an exclusive, but everything has fallen asleep and I have to do it alone. There is no such culture in the city. Here, no one is in the habit of going to last year's houses anymore. In São Paulo, Coritiba, Rio de Janeiro, the possibilities are much greater. We have to fight against prejudice, it's not easy", he points out.
Champion prioritizes economics at UFJF
Young Matheus Xavier, 18 years old, was part of the champion team of two Counter Strike tournaments organized by CT e-sports JF. It was his brother who introduced him to the world of games, when he was still a child, on a Playstation 1. Later, Matheus won a Playstation 3 and fell in love with Call Of Duty. From that, he decided to buy a computer in 2016, and three years later he started playing Counter Strike, his favorite game to this day. Nevertheless, the boy believes that the preparation in the city is not ideal, although it was reflected in the achievements
"It was great to win the championship, my team came very focused on winning both editions. It was the fruit of our talent. We have been playing together for some time, so it is easier to build a relationship and tactics. But from day to day I usually just sit down at the computer and play, without much training. I'm already studying economics at UFJF and I have other priorities," admits the student.
According to the boy, what is missing for people like him to become professionals is encouragement at home as well as financially. "My family didn't support me much to have the best equipment. For a long time I played with peripherals far below professional level. Because of this, I gave up on trying this career and focused more on my studies. There is a lack of investment in players, it turns out that we usually play in Juiz de Fora only as a hobby and for fun. If there were more incentives in the financial part, the commitment would be greater", believes Matheus.
structural problems
As for the producer of pop culture events, Eustáquia Júnior, who organizes competitions such as Soul Geek and the Anima Clube Festival (FAC), many people in the city are interested in electronic games. "We've set up a player space at cross-console events and run simple tournaments for FIFA, Naruto and Mortal Kombat 11. Even so, it's still far from ideal, but it's a form of entertainment that we've found provides some inclusion . this audience. to the event," he says. According to him, the main obstacle is a structural issue.
"We have many players, but very few places to receive them. We would need a 'play house' to concentrate players or even create a team. The incentive for this culture is still very limited. The city hall has taken some actions to encourage the players, but it still faces the problem of sustainability of holding the championship. You would need compatible computers and enough two teams and high-quality internet to host the server, in a mobile way. Organizers need an arena with extremely expensive construction in order to make a quality event that would attract an audience and could have a return. Sponsorships in this area are very rare, we need more", concludes Eustáquio.